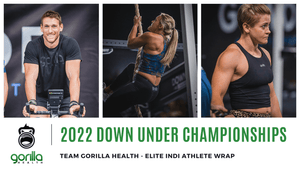 GORILLA INDI ATHLETES SHINE AT THE 'GONG
After a 3 year hiatus the Down Under Championships recently returned to Wollongong's WIN Stadium on November 18-20. As the premier off-season event for CrossFit in Australia, the DUC boasted an extensive list of international athletes, but our eyes were closer to home with Team Gorilla Health fielding an impressive list of qualified athletes in all four elite divisions.
Within the Elite Individual fields, Christina Livaditakis and Carrie Freestone took the floor in the Women's division; with Rob Watt in the Individual Mens.
Zimbabwean native, Christina Livaditakis turned heads across the weekend with three Top 5 finishes and impressive back to back event wins in the Regionals 12.5 and 16.6 events. In a field deep with Games Athletes, including Maddie Sturt, and team Games athletes Katelin van Zyl and Marnie Sykes, Christina's strong performances in the 12.5 snatch ladder, gymnastic-loaded Nasty Girls and long grinding 16.6 chipper positions her in good stead for the upcoming 2023 Games season.
"The Down Under Championships was one of, if not, my favourite competitions that I've ever done- I loved all of it. It was pretty cool for me to compete in such a high level comp in Australia, I normally compete in semifinals in Africa (for the Games season).
"My favourite part… it's hard to choose. Being able to learn about myself as a competitor, and to find holes in my game, for me is the most important part of my journey at the moment.
"The part that got me feeling the best was definitely Event 5, the Snatch ladder. It was so cool to win that event, and also PR my snatch by 5.5kg in a stadium filled with people!
"I'm super excited for the season ahead, I've got huge goals and I'm excited to see where the sport will take me"
Event Finishes:
Overall – 3rd | Events: 10th- 22nd - 2nd - 6th  - 1st - 1st - 8th
Keep up with Chris over on IG  www.instagram.com/christinalivaditakis/
Carrie Freestone also had a brilliant performance, particularly considering a shortened preparation phase, due to late DUC qualification via the Elite Fitness League only 6 weeks prior. Even as the most… 'life-experienced' female athlete in field (we don't dare call her old!), Carrie's tenacity and grit mean that age is no barrier for elite performance, as she secured a 22nd overall finish at the Championship this year.
"As someone who was a little last minute in deciding to compete after getting a wild card…I'm so glad I went. It was a great off-season comp for me. I didn't prepare specifically for this event and just went in to see where I'm at and why needs work. The event was really organised and it was great to catch up with so many Gorilla athletes from around the country.
"(My favourite event was) The weight vest one. I think the WOD made me realise my potential, and that I can be competitive at the semifinal level. I came in off the run 2nd last and finished my heat in 2nd place and 11th overall. I was 5 minutes faster than when I tested it in training too! 
"Heading into Season 2023 I'm feeling motivated- I'm back into regular programming with a big focus on strength and a few skill gaps. Plenty of work to do before quarterfinals / age groups but excited to put my head down and work"
Event Finishes
Overall - 22nd   | Events: 18th - 18th- 18th - 11th - 24th - 23rd - 22nd 
Catch Carrie over on IG www.instagram.com/cazzafree/
Newcomer to Team Gorilla Health, but certainly a veteran by CrossFit standards, Rob Watt returned to the Individual Mens field at DUC, following several seasons having focused on team competition. Rob is no stranger to high level competitive CrossFit, having been around since 2014, including a 2017 Games appearance with Team Functional Strength CrossFit. The 2023 season marks his return to focus on individual competition, with the DUC a first chance to gauge his progress against a star studded Oceania Mens field. 
"This is probably the first time I've actually been able to soak it all in with no pressure, where I'm at in life other things have taken priority for a while, I still love competing and I'm always going try my hardest to be competitive, but I'm also happy with where I'm at. I didn't place where I wanted, but probably placed where I deserved. But it was nice being able to take a moment, look around and find people I knew in the crowd and enjoy every moment of being on the floor.
"The events were really fun, not sure if there wasn't much in my wheelhouse  or if I was too cooked for it - but that was all part of the challenge! DUC organisers have really outdone themselves with how they ran the comp this year, it was a whole other level.
Competing in a competition like DUC it does motivate you, win or lose, everyone leaves knowing what they need to work on, and the same for a lot of people watching.
Post event this is sorest I've ever been from a comp- EVER. Even two weeks later I swear I'm still feeling it! Realising you're the old boy in the field kind of snuck up out of nowhere too, but I'll try to hang around for as long as I can"
Event Finishes:
Overall - 22nd   | Events: 10th- 18th- 28th - 20th- 15th - 23rd - 16th
 Follow Rob's season progress on IG - 
www.instagram.com/robwattch/
Stay tuned for our Elite Team athlete wrap in our next post!
---