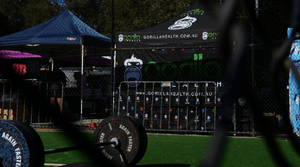 Gorilla Athletes Shine Under Lights: Fittest in the Yard 2022
Outdoor competition floors are a favourite here at Gorilla Health – but nothing beats the atmosphere of throwing down under lights. Lucky for us, Fittest in the Yard had both! 
It might be the off season for most of the CrossFit community, but the local comp season is in full swing. We headed to CrossFit 4055 with Gorilla Health Athletes James Thomas and Tylah McGeary, both contending as RX individuals in the second annual Fittest in the Yard. 
James Thomas, a returning name to the 22/23 roster on Team Gorilla Health, finished in an impressive 5th in a highly competitive field of 21 RX Men. With consistent finishes across all 4 events, it was a confidence building result for the opening bout of his 22/23 season. 
'(I'd) originally signed up to get more exposure competing as an individual, having previously competed mainly on teams in the past. It was probably one of my first competitions where I didn't have crazy expectations, just tried to enjoy the day.
 'My training at the moment has focused a lot on strength over gymnastic capacity, so some of those workouts were more challenging; but the snatch workout was a favorite- all the bars felt like they moved well.
(I) Missed 110 a few times which would have been a PB but felt very close, so it was great to feel like I'm going in the right direction there.
'Overall, thoroughly enjoyed the day, a great event to hit in the off-season'
Final Event Ranking: 5th
Highest Event Placing: 5th 
To follow & support more of James' season head over to Instagram
Tylah McGeary, newly joining Team Gorilla Health out of CrossFit Raw Iron for 2022, also had a great performance for her first competition of the season. The women's RX field featured a number of heavy hitters making it the perfect opportunity test her game against some of the most experienced heads in the region.
'I was quite nervous but excited heading into the day as my first ever individual comp, so I didn't know what to expect but wanted to do the best that I could! Overall, my cardio fitness has improved alot which I think showed over the weekend so I'm really happy with that.
 'My favourite and proudest achievement was my performance in the snatch workout. Ended up taking the win in my heat so really proud of that one.
 'I was actually quite happy with my overall performance except I tore my hands! So I think there's the opportunity to go alot further if I can avoid that next time.
'I'm especially grateful for the support by Gorilla Health in the lead up and over the event too. Overall a really great day, and excited for the season ahead.'
Final Ranking: 9th  
Highest Event Placing: 6th
To follow & support Ty's season, follow her over on 
Instagram
---